NEW - Dickies Killer Klowns EP Reissue Vinyl!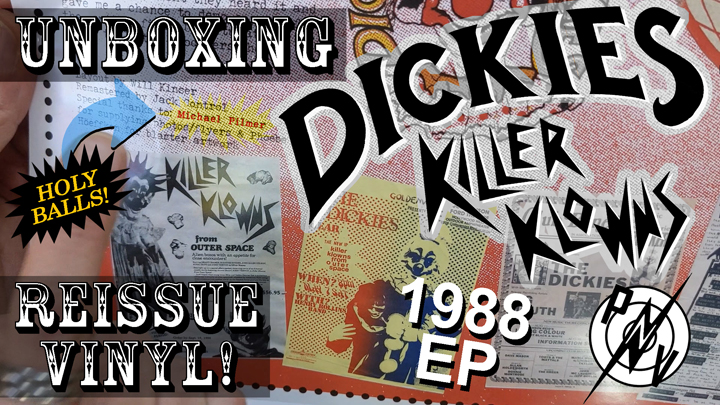 NEW - Nice reissue of The DIckies' 1988 Killer Klowns EP with BITCHIN' bonus stuff! Check out the unboxing video. (There is some VERY cool stuff that comes with each pressing!)

ORDER NOW!
AVAILABLE NOW from PUKE N VOMIT RECORDS! DON'T MISS OUT!


Dig this!!
Dickies 7" Vinyl Single "Blink-183"!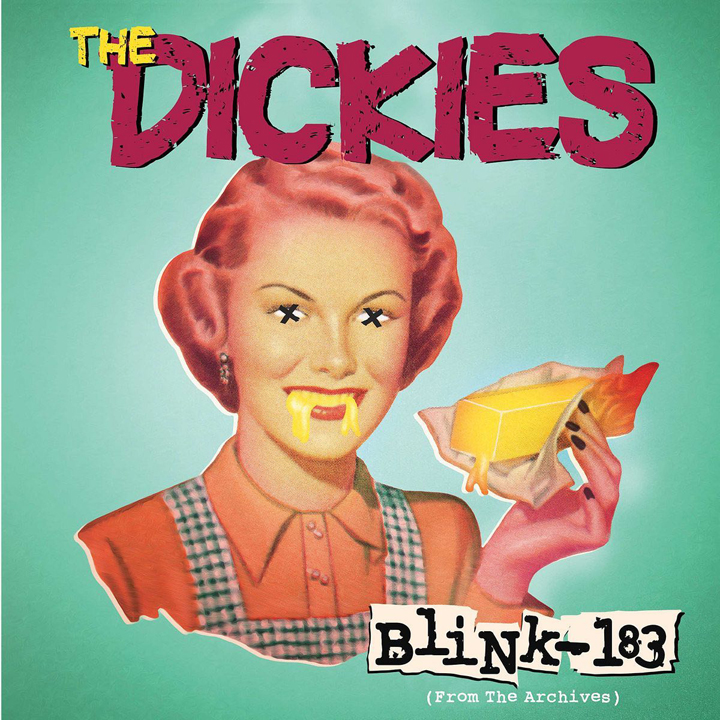 Punk Rock Tricksters THE DICKIES One Up Their Rivals On New Single "BLINK-183!"

Fresh from their release of "A Gary Glitter Getaway," the catchy, hook-filled single launched at the beginning of this year, as well as a reinvigorated reissue of the 1983 album Stukas Over Disneyland, punk rock veterans The Dickies are back at it again.

This time they've reached deep into their bag of tricks and came out with two unreleased gems recorded over two decades ago and never heard...until now! Pressed in both

GREEN

and

MAGENTA

vinyl! PURCHASE HERE.


Plus...See the unboxing video with needle drops!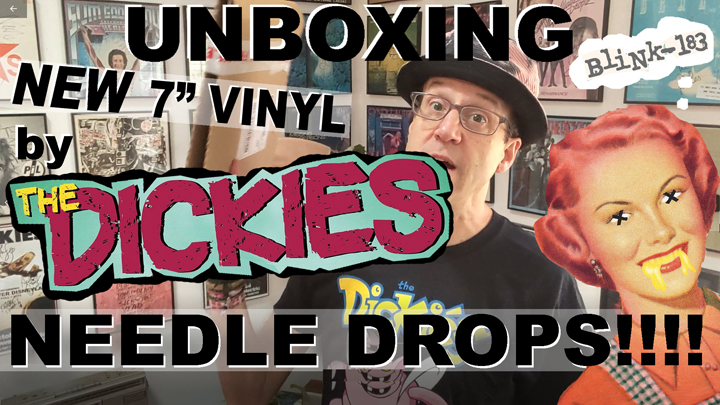 NEW - Dickies 1978 Photo T-Shirt!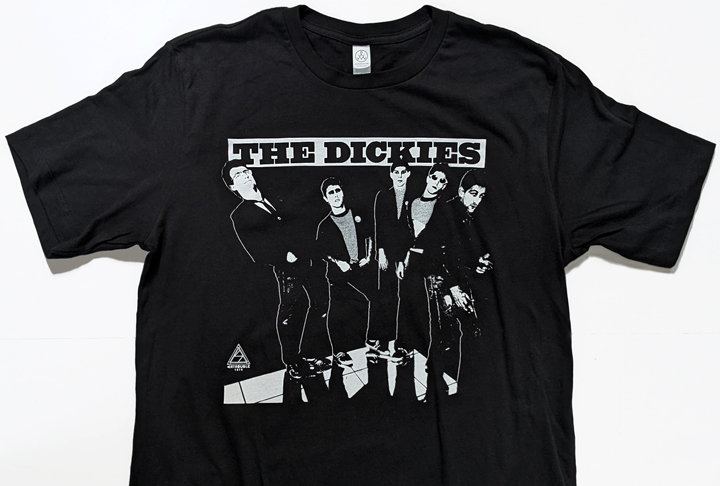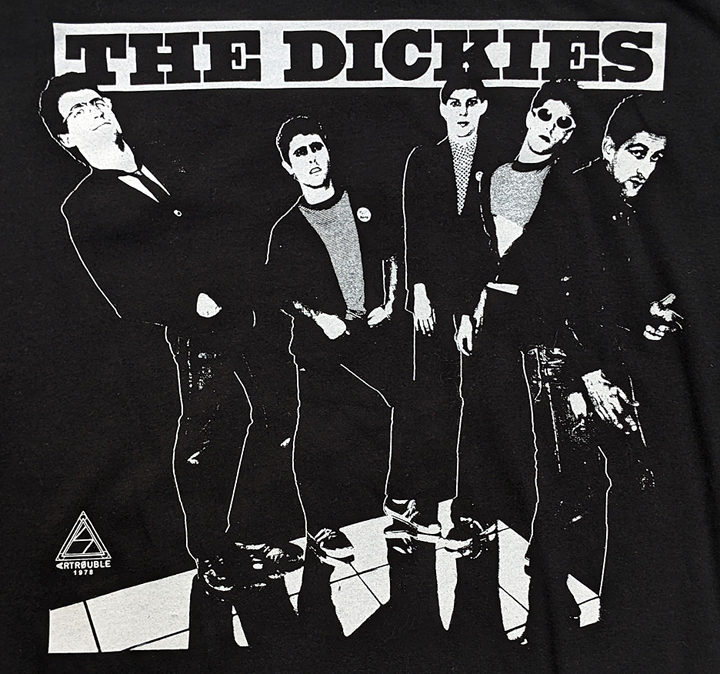 NEW - Dickies T-Shirt featuring photo by Jules Bates/Artrouble from the back of their 1978 debut 10" EP! PRE-ORDER NOW!
Pre-orders open through NOV. 1st, 2022! DON'T MISS OUT!


NEW -
Dickies Logo Vinyl Stickers!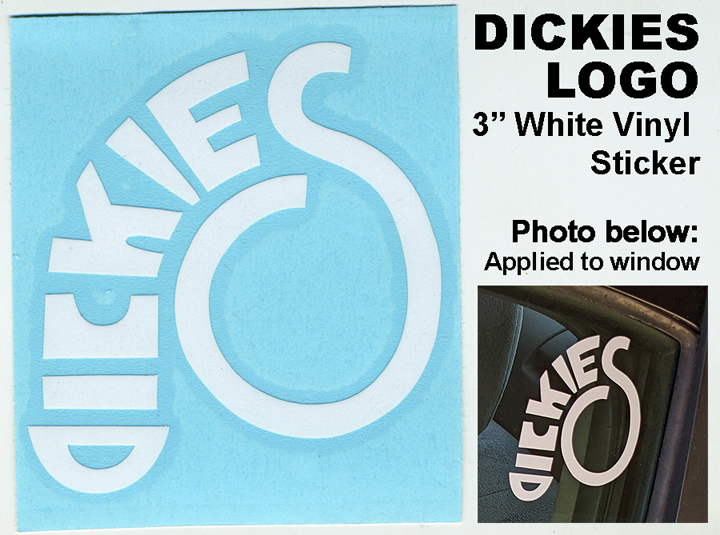 NEW - 3" White Vinyl Stickers cut into the shape of The DICKIES infamous logo! ORDER NOW!

KILLER KLOWNS Soundtrack on Vinyl for 1st time!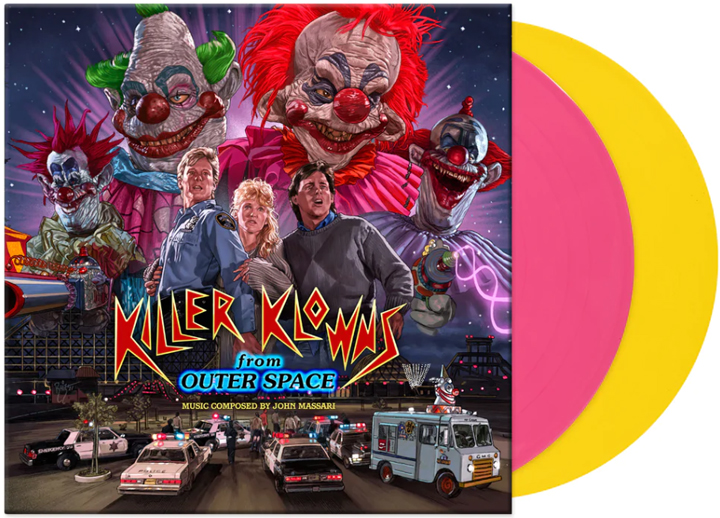 The Killer Klowns From Outer Space soundtrack is finally available on vinyl for the first time! Colored vinyl, 180 gram vinyl, with gatefold packaging & art print insert. SEE UNBOXING VIDEO with needle drops!

Get full details on product at WaxWorkRecords.com.

TEST PRESSING of upcoming DICKIES Reissue!
Check out this unboxing video featuring a test pressing LP of an upcoming reissue title by THE DICKIES on Puke N Vomit Records! Set for release in November, 2022.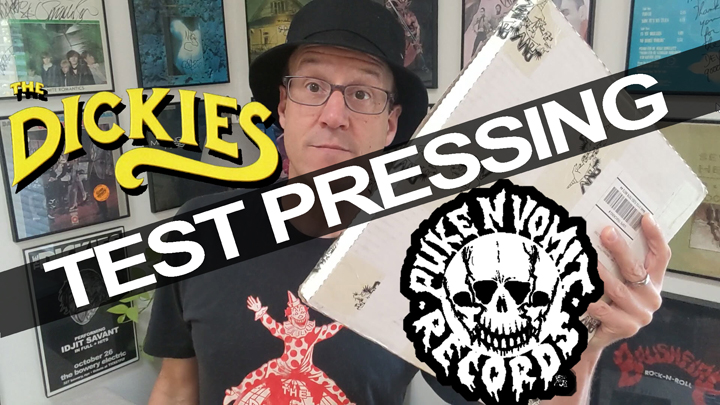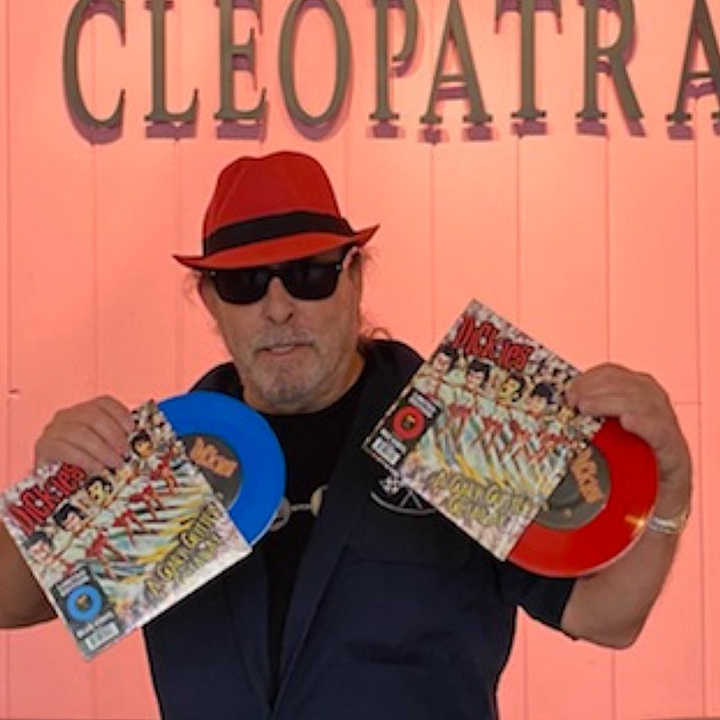 See what Stan Lee is holding...?? Could be YOURS!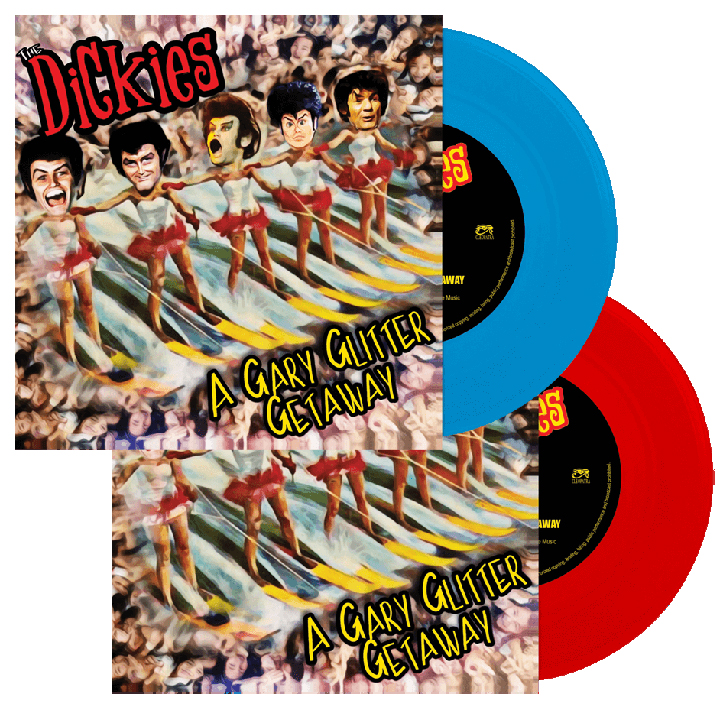 New 7" Single Vinyl!!

Gary Glitter Getaway

/

I Want To Hold Your Hand

on Cleopatra Records! 2 colors of vinyl to choose from! Order at CleoRecs.com!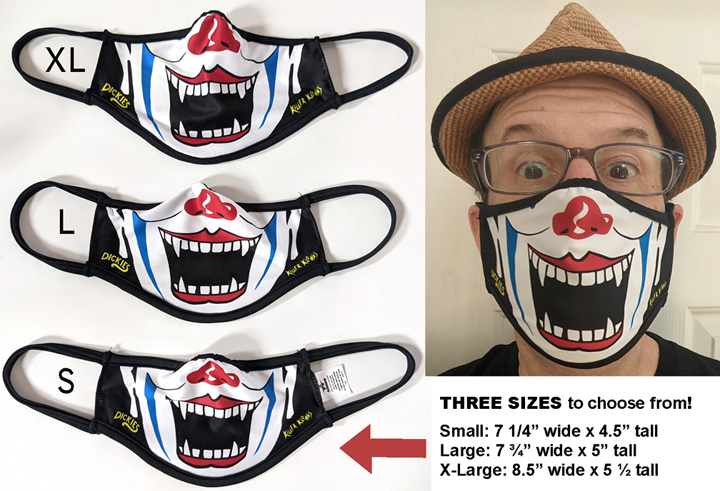 KILLER KLOWNS FACE MASKS!
The most KILLER mask in town! Designed with our 1988 KILLER KLOWNS EP in mind. Full color sublimated graphics. The only mask bitchin' enough to wear EVEN AFTER the pandemic!
THREE SIZES to choose from!
Small: 7 1/4" wide x 4.5" tall (Sold Out)
Large: 7 ¾" wide x 5" tall
X-Large: 8.5" wide x 5 ½ tall (Sold Out)
Cost: $14.99 each + shipping*

*SHIPPING COSTS will be based on your shipping address & calculated after your initial payment of $14.99 per mask is received.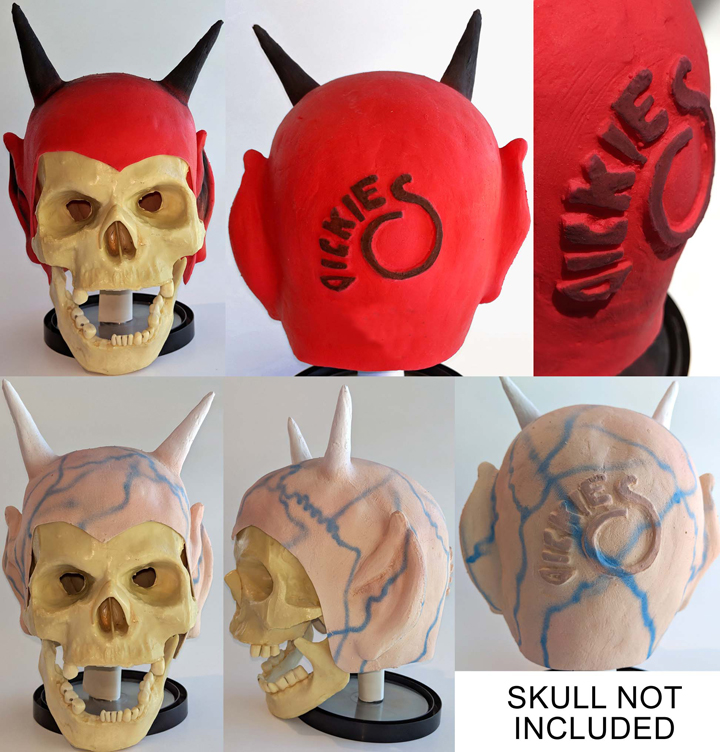 9/3/20: Devil Headpieces In Stock! Ltd Qty!

Just in time for Halloween! A very limited quantity of the official Dickies Devil Headpieces are now up for sale at our online store! As worn onstage by Leonard Graves Phillips. Choose from standard red devil or fleshy demon.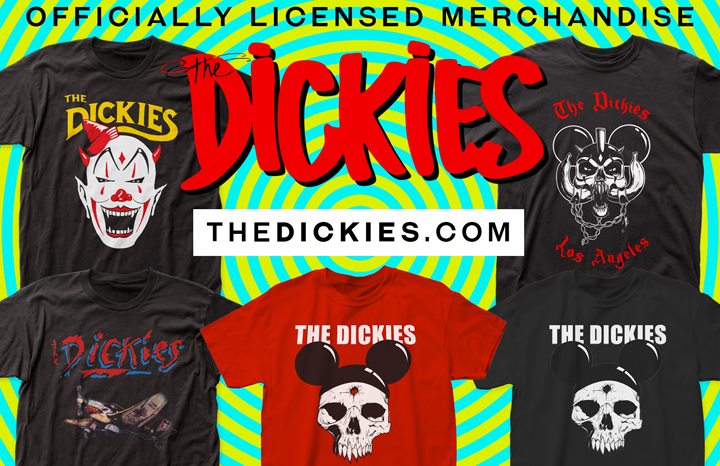 7/11/20: New Merchandise In Stock!

We had a lot of bitchin' merchandise printed for our planned 2020 tour, but alas, the pandemic had other plans. Check out our Official Online Store and get your hands on this stuff before it sells out!
LIVE PERFORMANCE
plus conversation with the band!
SPECIAL INCENTIVES:
Signed goodies, Exclusive merch, Zoom meet & greets
...and a chance to spend an evening out with Leonard!
That's right.. it's FREE! Our gift to you, the fans who have supported us by coming out to see our live gigs year after year. The current pandemic sure has changed things this summer, so we decided to give you the goods via Livestream, in lieu of face-to-face shows at live concert venues.
As this is a completely FREE event, please show your support during the stream by sending donations and purchasing new merchandise (TBA) at TheDickies.com.
Join us here on our Official Facebook page on July 12th at the times listed below.
(You can also view at the Monsters of Rock Cruise page):
2pm / Los Angeles
5pm / NYC
10pm / London
11pm / Paris
6am / Japan
LET'S ROCK!! See you soon.

4/26/20:
NOW FOR THE GOOD NEWS...
Even though things went sideways for me and SO many others the record and book deals were saved. My consideration about seeing the release of the band's final album along with my book's publication far transcend anything financial. The contract was signed on the hood of my car in Stan's driveway. The book deal was signed poolside at my editor's home. These will be released right after the beginning of next year. Stay safe and sane out there folks.

- Leonard Graves Phillips
1998 Interview w/ Stan Lee (Eye Mag) added to
Gallery Page!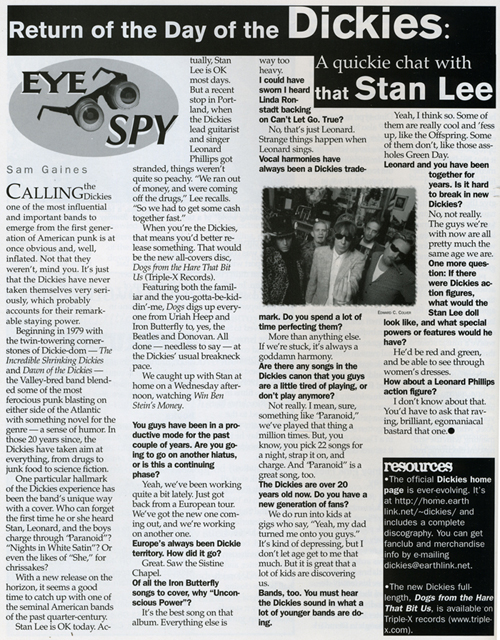 Go to GALLERY PAGE (Memorabilia Section) to see full 1998 interview.

11/20/19: Dig this 2019 Post-Tour Bundle Deal!

Get the very rare BLUE VINYL 7" single (previously available exclusively for sale at 2019 Dickies gigs) along with the bitchin' Summer Tour Tee bundled together for one low price! ONLY WHILE SUPPLIES LAST!

This is the ONLY way you can purchase the blue vinyl single!
ORDER NOW!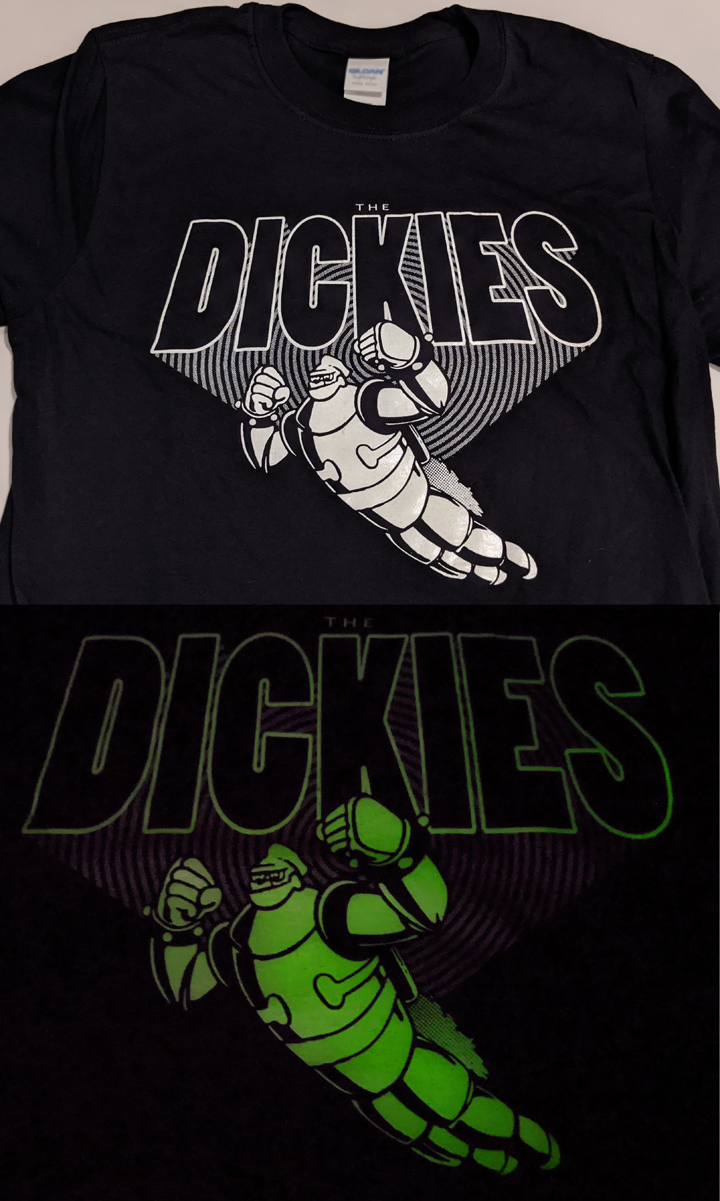 11/12/19: BY POPULAR DEMAND: These Glow-In-The-Dark Gigantor Tees are available for PRE-ORDER for a limited time! We had these at our NYC/Philly gigs recently and they sold out quickly. Pre-Orders are only open until NOV. 20th! We plan to ship 1st week of December or sooner.
PRE-ORDER NOW!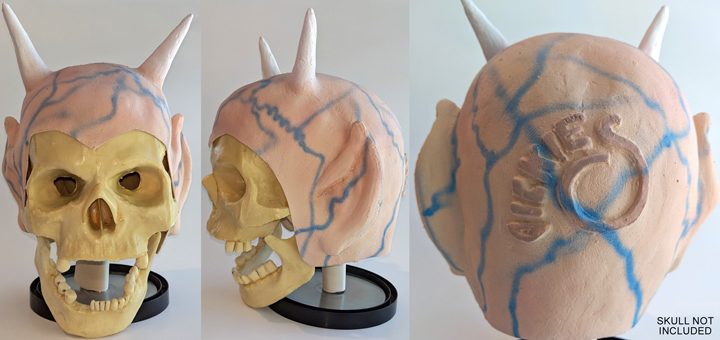 9/28/19: As worn by Leonard Graves Phillips onstage with The Dickies. Custom made flesh colored latex headpiece* w/ Dickies logo in raised lettering on back. Hand sculpted, hand poured, hand painted by Sik Rik Masks in Ohio. VERY Limited Edition item!

*skull not included


ORDER NOW!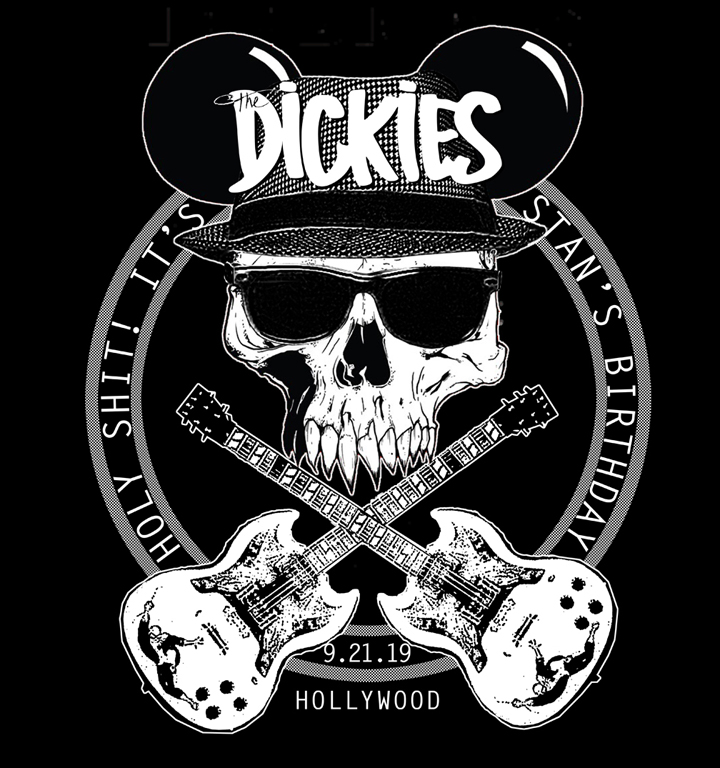 9/6/19: Holy Shit! It's Stan Lee's birthday later this month! The Dickies are celebrating at The Whisky in Hollywood on 9/21/19. You can buy this tee at the gig, or PRE-ORDER NOW...but Pre-Orders are only open until SEPT. 17th! After that, no more will be sold online. PRE-ORDER NOW!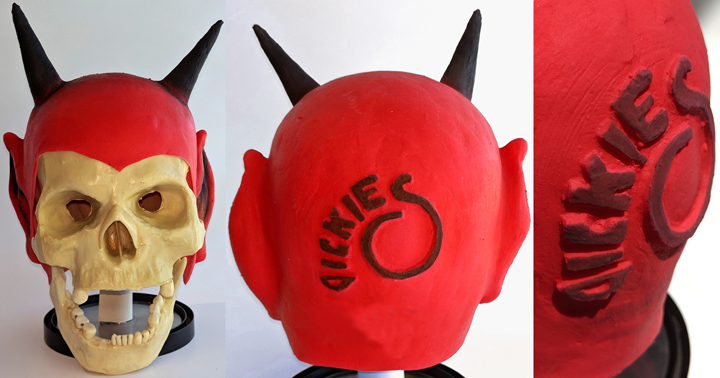 8/13/19: As worn by Leonard Graves Phillips onstage with The Dickies. Custom made red latex mask w/ Dickies logo in raised lettering on back. Hand sculpted, hand poured, hand painted by Sik Rik Masks in Ohio.
VERY Limited Edition item! ORDER NOW!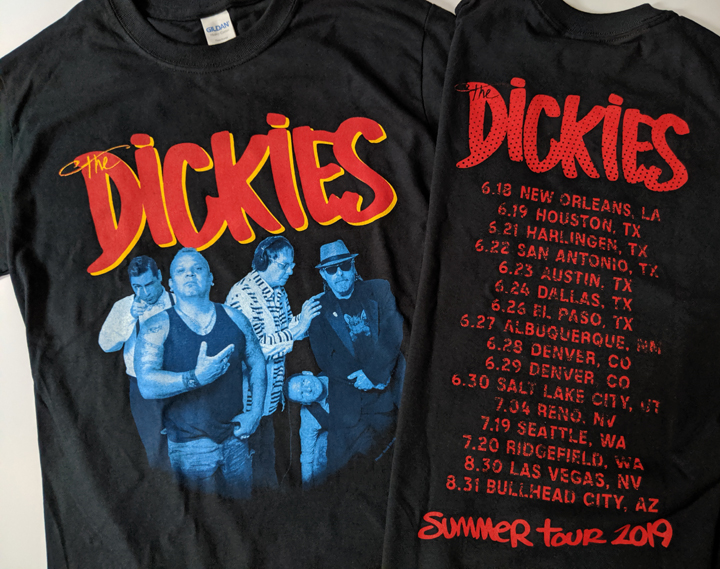 6/14/19: NEW Summer Tour 2019 T-Shirt
with photo of current lineup + tour dates on the back! Ltd Stock!


(Band Photo by Scott Sturdy)


ORDER NOW!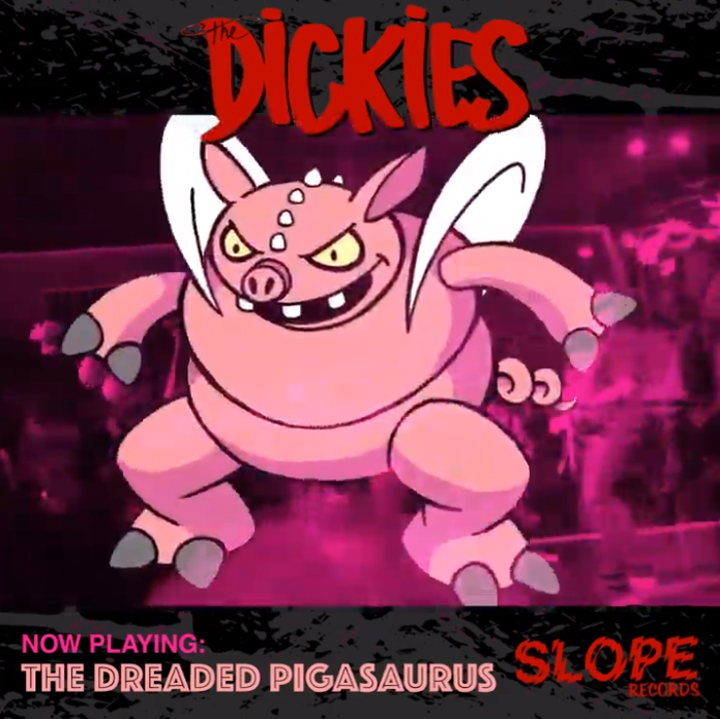 click image above to see rad teaser video!

5/7/19: Check out this song clip from The Dickies B-Side original "The Dreaded Pigasaurus" from the NEW 7" - I Dig Go-Go Girls.
Release date 5•24•19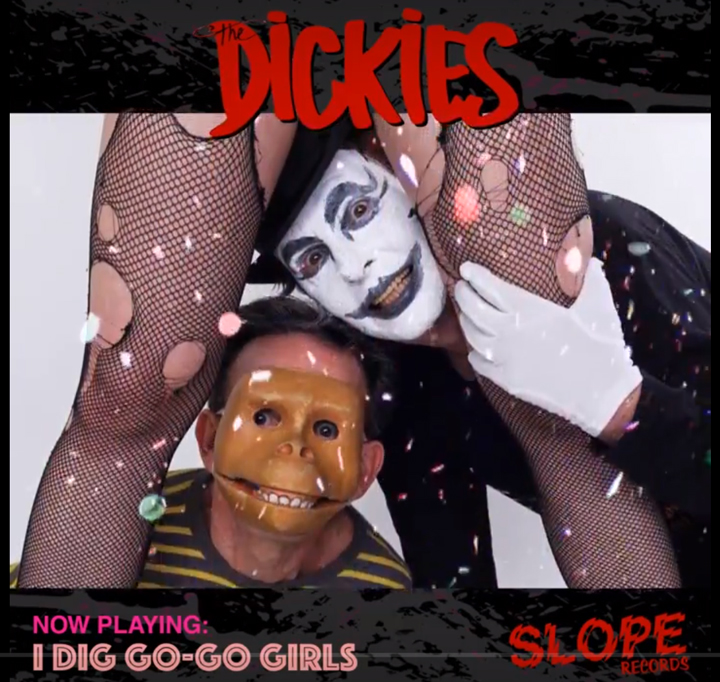 click image above to see bitchin' teaser video!

4/19/19: The first new music from THE DICKIES in many years!

Ltd Edition 7" Single: "I Dig Go-Go Girls" w/ "The Dreaded Pigasaurus"
A-side features Monkey from The Adicts sharing vocals with Leonard!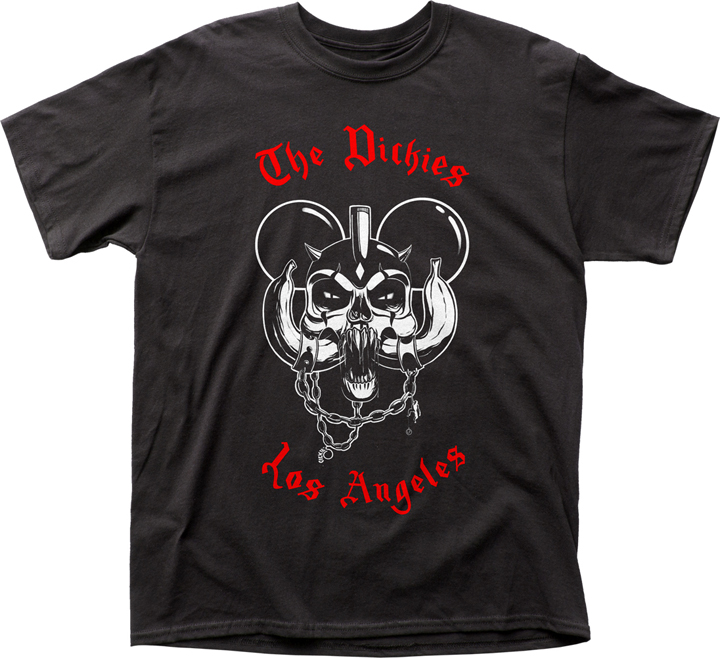 4/9/19: NEW MotorMouse T-Shirt! Limited Stock! Art by Leanna Plant.
ORDER NOW!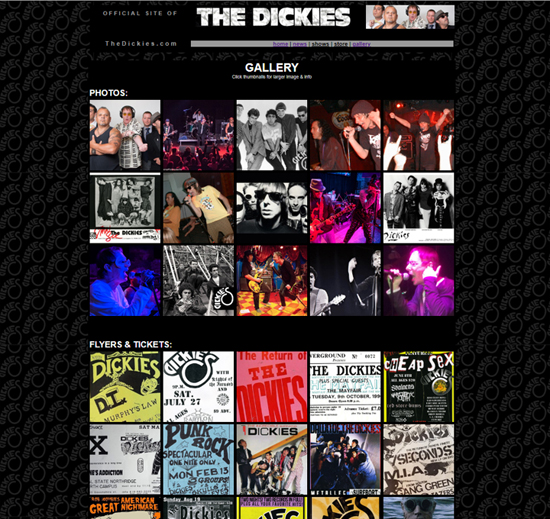 2/5/19: We've added a GALLERY page featuring photos, flyers/tickets and memorabilia - including commentary from band members past & present! More to be added in the near future.

2/4/19: Where Will You Get It? At the store, of course.
I'm happy to announce that after DECADES of mayhem & inactivity the Dickies are opening an online merch store. It's been WAY overdue and now Dickies enthusiasts from all over the world can have their swag needs met.
No not THAT Dickies. That line is for squares. THIS Dickies. The legendary pop/punk band who've entertained and influenced so many for so long.
I wanna load it up with Dickies toasters, cell phone covers, capes, spats, dogfood bowls and even buttplugs. Don't think I'm not working on it.
"Paraphernalia, badges and regalia…"

-- Leonard Graves Phillips
The Dickies Official Online Store COMING SOON!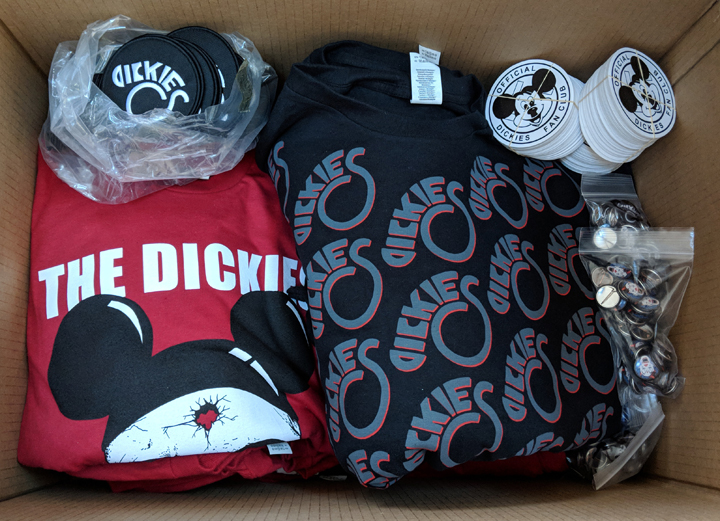 1/31/19: The first box of limited edition merchandise for the VERY FIRST OFFICIAL DICKIES BAND ONLINE STORE EVER has arrived!
We will launch next week! BITCHIN'!!

Leonard Graves Phillips Interview: 12.23.18




RockBandsOfLA.com talks to Leonard about The Dickies, punk rock, musical influences, etc.

"We were first to sign with a major label which immediately put the arc of our evolution and success way beyond that very same scene who'd embraced us previously."
-- Leonard Graves Phillips.

SEE FULL INTERVIEW

NEWS from DICKIESLAND:
12.10.18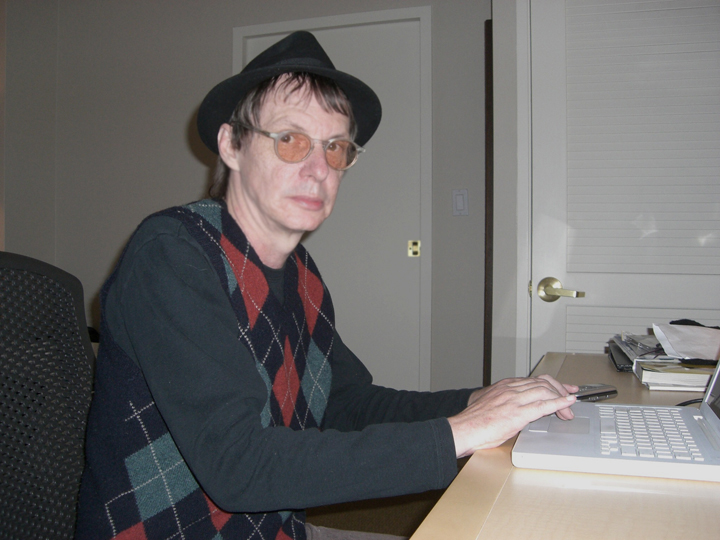 Leonard Graves Phillips, the esteemed singer of The Dickies, is working on a book. It's a collaborative effort with illustrator Jason Smith. "A collection of short stories - autobiographical in nature and (hopefully) humorous in tone. Before, during and in a metaphysical sense, after The Dickies". More details coming in the not-so-distant future.

Check back in the near future for more news updates regarding new Dickies merchandise, new Dickies music, etc.